---
---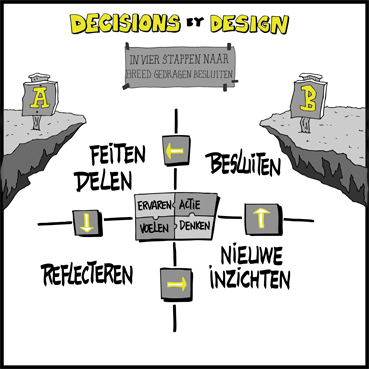 ---
The book Decisions by Design worth €35,95 is included in the training.
---
Reach commitment for joint decisions in four steps
---
In this two-day training you will learn the decision making method Decisions by Design which enables groups to commit to their designed joint decision while experiencing a win-win situation. We share the basics and the four steps, with which you realise a joint decision in your own practice. Moreover, by timeboxing you achieve accelerated results.
Program
This training yields the following results:
Applying the 4 design steps of Decisions by Design, with which you design an interactive group process that produces buy-in for joint decisions;
Focus on meaningful and educational interactions between people in addition to substantive transactions;
Applying strategic questions to guide decision making;
Practice with the Decision Design Canvas.
---
Your challenge?
If you regularly have to deal with organisational change and decision making, you probably recognise:
that it is hard to get managers, employees, customers and suppliers aligned;
that the decision-maker is often not the most knowledgeable in terms of content (and the content expert is usually not authorised to take decisions);
that it is not always clear whether a decision has been made and whether all stakeholders are committed to it.
In short: it is challenging to let all the different interests have a say in the decision-making process. When you have the buy-in of all the stakeholders, the decision supports the effectiveness of project management, process management, change management and of any collaboration.
---
Blended learning
We understand how busy you are. Full calendars are a given. Investing in your own development often seems to be the last priority. And that's a missed opportunity!
That is why we have partly put this training in an online learning system. This way you can learn whenever and wherever you want. You can consult all training materials for the long-term. In addition, we organise two meetings of one day to focus on practice and learning.
---
How do you create a situation where everyone is committed to a common goal?
As a professional, you face the challenge of making a sustainable change in the way people collaborate; where informed decisions should lead to better results. Decisions by Design is a simple and powerful tool to enable the best achievable and sustainable decisions with active participation of all relevant stakeholders. Four design steps lead you as a change practitioner, interactively with the relevant stakeholders, to crucial and supported decisions in which all perspectives and realities are acknowledged.
In every collaboration with project members, clients or business partners, different views, attitudes and interests always prevail. How do you align all these different perspectives and interpretations to reach commitment for a joint decision, for the benefit of a project plan?
When several people collaborate in a change project, you want the energy, available knowledge and work done to actually contribute to the joint result. In such a way that individual perspectives and interests become known, different solutions are examined together to ultimately achieve the connection and commitment to the desired ambition. In order to make decisions that result in a win-win situation for all parties, you need to design them.
---
Practical info
---
Rate: € 795,- excl VAT
Location: Utrecht, The Netherlands
Catering: coffee, tea, lunch
Time: approx. 4 hours of online study and two training days
Group size: minimum 6 and maximum 12 persons
For whom: change makers who have the ambition to achieve result-oriented collaboration with better decisions: facilitators, leaders, (project) managers, SCRUM masters, coaches, strategic advisors and consultants.
---